Regardless of whether or not you're well-versed in taking care of your own curls or coils, caring for a child's curly hair can be a real challenge. The child may have a different hair texture, porosity, or density than what you're used to. And, if you're a parent or care-taker with straight hair, you may have never even considered the role of porosity or moisture in a hair care routine before–but just having the right products on-hand can make a world of difference in the hair care experience for you and your little one. Here to save the day are countless curly hair care products formulated specifically with sensitive youngsters in-mind that can handle the tangled aftermath of even the wildest playtime. But, of course, in the sea of products and ingredients, it may be difficult to know what the best options are.
We've narrowed it down to 10 gentle kid-friendly product lines to keep your little one's hair in top shape, and put the fun back into detangling, washing, and styling.
1. SheaMoisture Kids
As a staple and OG in the world of curly hair, you can count on the SheaMoisture brand to bring hydration and healthy, organic ingredients to you and your children. The Coconut & Hibiscus Kids line will nourish delicate curls with coconut oil's vitamins and antioxidants, while the hibiscus extract adds shine. Cleanse with the Coconut & Hibiscus Kids 2-In-1 Shampoo & Conditioner ($9.99) to remove buildup while replenishing lost oils without any of the harsh chemicals. To get rid of any pesky tangles, follow up with the Coconut & Hibiscus Kids Extra-Moisturizing Detangler ($9.99) with slippery elm extract for the perfect amount of "slip" to loosen knots. To top it off, try the Coconut & Hibiscus Kids Curling Butter Cream ($9.99) for styling, giving intense moisturization and a soft hold for definition.
The Coconut & Hibiscus line works wonders on curl patterns Type 3 and Type 4.
Not sure what your curly kiddo's hair type is? Take our quiz!
2. Ouidad KRLY Kids 
Ouidad keeps everything simple, fuss-free, and tear-free with three Ouidad KRLY Kids products. The KRLY Kids No Time For Tears Shampoo ($15) contains proteins and amino acids that will help keep your curly kid's delicate hair strong while washing out any dirt or build-up weighing it down–without zero stinging or eye irritation. Rake a small amount through wet curls and rinse with warm water. Follow that up with the KRLY Kids No More Knots Conditioner ($15) which calms and softens frizzy hair, allowing tangles to slip away. Its leave-in or rinse-out formula allows for flexibility in the routine wherever you need it. For the finishing touches, go ahead and add the lightweight, quick and easy KRLY Kids Pump & Go Spray ($15) for hydration and hold without the stickiness. Work the hair through the fingers to define the curls and let it dry.
Try this line on kids with curl patterns Types 2 and Type 3. 
3. Johnson's for Kids
The Johnson's brand has been caring for babies' hair and skin for years, and now their hypoallergenic Curl-Defining line can give your toddler's hair the treatment it needs. Use the incredibly mild Curl-Defining Kids' Shampoo with Shea Butter ($4) to delicately clean your tot's developing curls or waves as well as moisturize them. This tear-free formula is as gentle to the eyes as water. Afterwards, gently work the Curl-Defining Kids' Leave-In Conditioner ($3.94) into the hair and comb gently for bouncy, beautiful coils and curls.
Use Johnson's on any curly/textured hair type.
4. SoCozy Kids
SoCozy was designed with the intention to create salon-quality hair care products just for kids, with no harmful ingredients, and has your kid's wash day completely covered–from leave-in conditioner to volumizing foam. Start wash-day off on the right foot with the Curl Shampoo Ultra Hydrating Cleanser's ($9.98) restorative formula to reduce breakage and promote elasticity. The ingredients keratin, plum seed oil, and olive oil encourage strong, moisturized hair with sealed cuticles. For an even gentler clean on damaged curls, give the Co-Wash Cleansing Conditioner ($9.99) a go. Pair that with the Curl Conditioner ($7.39), distributing evenly and rinsing, or even leaving a small amount in for added moisture. Finish off with the Curl Spray ($7.99) for added moisture and to avoid snags, or the Curl Volumizing Foam ($9.99) for super lightweight hold and hydration.
Use these products on Type 3 to Type 4A curls.
5. CURLS It's a Curl!
When it comes to your baby, you want the absolute best. If you've used CURLS products before and loved it, guess what–they have a baby line. Peek-a-Boo Tearless Shampoo ($12) cleans baby's hair and scalp with organic ingredients and botanicals for super sensitive skin. Add the organic aloe-infused Patty Cake Conditioner ($13) to clean hair to soothe an irritated scalp and penetrate the hair shaft to moisturize with organic jojoba oil. To finish up apply the Ring Around The Curls Leave-In ($14) to enhance, defrizz, and style. In-between washes use the Itsy Bitsy Spirals Moisturizer ($13) daily to take care of that adorable fuzzy bed-head look.
The It's a Curl line is perfect for all curly/textured hair types.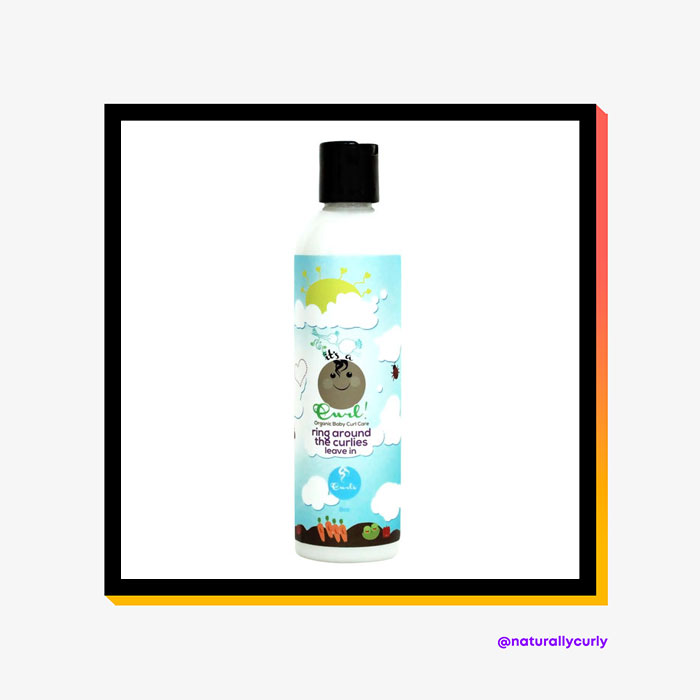 6. Cantu Care For Kids
Cantu is popular for its phenomenal products at a sweet price point, and the kids line is no different. A NaturallyCurly Best of the Best winner, Cantu for Kids products are a blend of pure shea butter, coconut oil, and honey with no damaging ingredients. The Tear-Free Nourishing Shampoo ($4.99) infuses curls with moisture with no stringent ingredients and gets rid of build-up. For even more moisture and manageability, go in with the Cantu For Kids Nourishing Conditioner ($4.99) to quench thirsty hair, following up with the coconut-scented Conditioning Detangler ($5.29) and/or the Leave-In Conditioner ($5.19) (best for type 4 hair).
Other than the leave-in, this line works well with all curls and textures. 
7. Mixed Chicks Kids
Some curls require extra moisture but are prone to build-up, and Mixed Chicks Kids aims to fill in that gap. Starting off with the Kids Shampoo ($11), you can count on a gentle cleanse, but Mixed Chicks recommends not washing your kiddie's curls more than twice a week. Instead, use the Conditioning Cleansing Co-Wash ($13) in place of shampoo if needed. When it comes to the Conditioner for Kids ($13), due to parents' wishes—there are no color additives or fragrance. This gem of a conditioner with safflower and jojoba oil will help you comb through curls like a boss with less breakage and more healthy-looking growth. Add the Leave-In Conditioner for Kids ($12) as the icing on top (also colorless and fragrance-free) for a soft finish. Does your cutie have bed head the next day? Try the Kid's Tangle-Tamer ($13) as a refresher.
These products are great on Type 3 to Type 4A hair.
8. Fairy Tales Curly-Q
If you and your family are vegan, look no further. Fairy Tales Hair Care prides themselves on catering to all curly hair types and the Curly-Q line is 100% vegan. Their Kids Shampoo for Curly Hair ($9.95) will leave your young one's curls looking great with ingredients like quinoa and avocado butters, and smelling like pear basil. Tangles won't stand a chance with the Kids Conditioner for Curly Hair ($9.95), and the Kids Styling Spray Gel for Curly Hair ($9.95) will help to define, shape, or scrunch curls into place. 
9. FroBabies Hair
FroBabies is all about building natural hair and curl confidence in kids by promoting healthy hair, starting at 12 months and older. And their line of super effective products does just that. The delightful Honey Bubbles Moisturizing Shampoo ($13.21) smells just as sweet as it sounds with its honey and avocado ingredients for ensured moisture. It's partner is the So Super Soft After Shampoo Conditioner ($14.22), which you can leave on your baby's hair for up to 15 minutes for a super deep conditioning treatment. When ready to style, pick up the Detangle Me Baby Leave-In Conditioner ($12.53) to detangle with your fingers or favorite tool, and use it daily as needed. For styles that require hold, you'll also want the Curls-A Poppin Soufflé ($12.08) and the Puffy Hold Me Down Baby Gelle ($11.76).
Super ideal for parents who do braids, twists and other protective styles on Type 3 and 4 hair.
10. Eden Bodyworks Kids
The EDEN Kids collection's easy to use packaging makes wash-day simple and easy enough that your curly kid might be able to do it themselves. Cleanse with the COCO Shea Berry Detangling Shampoo ($9.25) to soften strands for easier detangling without drying them, and go right in with the COCO Shea Berry Leave-In Detangler ($9.25), no rinse-out conditioner needed. Spray the leave-in liberally onto sectioned hair for hydration, and gently comb, brush or finger detangle. Add the COCO Shea Berry Curly Creme ($9.25) for a humidity-resistant, soft finishing hold while styling.
Great for all curly/coily kids. 
What are the current must-have products in your curly kid's routine? If you've used any products from these collections, tell us about your experience in the comments. 
Read next: