As we have seen the beauty market expand in category, ingredients, and products…it was only a matter of time until vegan curly hair products joined the line-up. When the "curly girl method" grew in popularity, brands flooded the shelves with regimes and remedies to help our aid our curls, but not all of them were cruelty-free (vegan and animal-test free). Similar to regular products, vegan curly hair care can come in a variety of options from shampoos, deep conditioners, leave-in's and more. Vegan beauty products can be marketed as hair care for conscious curls which usually boils down to the types of ingredients used which can be eco-friendly and good for the environment, cue Curl Rehab.
Curl Rehab is a vegan, eco-friendly curl treatment that aims to address unique curl problems such as scalp care, dry/damaged hair, and length retention. This new line is made with no sulfates, parabens, petrolatum, mineral oil, and is 100% biodegradable. Their mantra is "save your curls, love the world" and their ingredient lineup includes natural ingredients such as tea tree oil, green tea, rice water, grapeseed oil, coconut milk, and avocado depending on the treatment you receive. While they are new to the market, they have already begun to knock down the retail doors of major companies like Amazon, Wal-Mart, and Walgreens.
Curl Rehab 2-N-1 Shampoo Conditioner
Out of their three treatments, I chose the "Dry hair, Damage repair treatment" to help give my curls some much needed moisture after I decided to be blonde in 2021. The first product in this treatment was a 2-N-1 Shampoo Conditioner made with Coconut Milk and Avocado. It comes in a generous 16 oz. bottle and is aimed at moisturizing dehydrated curls.
My Review:
I loved the fresh smell of the coconut milk that wasn't too overwhelming or giving me tropical vibes. It had a pretty smooth consistency with a good amount of slip which surprised me since it was a shampoo/conditioner mix. It lathered very easily and was very nourishing to my hair. It took me a bit to adjust to the idea of a 2-N-1 product because of my natural inclination to put leave-in conditioner in my hair after the shampoo. However I did try a few combinations with the additional products they sent below. I have very thick hair with alot of volume so for me waking up the next day, the conditioner aspect of this product didn't leave my curls very moisturized or defined. I did have to add in other products to achieve a more controlled look. I preferred to use this as a co-wash in the middle of the week, but didn't enjoy it for my wash day.
2 / 2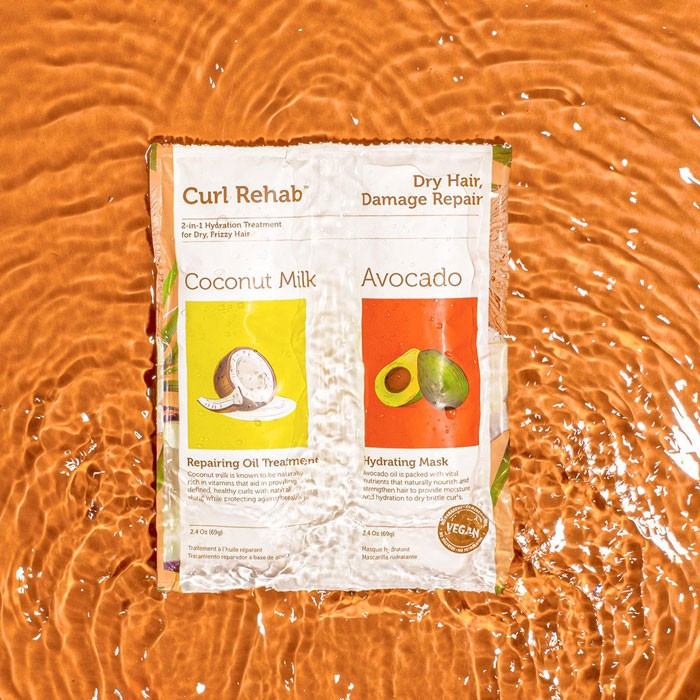 2-in-1 Hydration Treatment
The remaining products in the "Dry hair, Damage repair treatment" was a repairing oil treatment and hydrating mask packet. The instructions for each packet could be used individually or together depending on your hair problem or goal. The 4 way customized treatment could work as a leave-in treatment, pre-shampoo treatment, deep treatment, or conditioning treatment. The packets are easy to open and have a 4.8 ounces of product within each section.
My Review:
These were a little confusing to use because of the duality of how they can be applied. I opted first for the leave-in treatment with the repairing oil treatment which had a thick consistency and light coconut smell. I applied this after the 2-N-1 shampoo conditioner and enjoyed how easily it went through my hair and immediately defined my curls. It had a good hold and left my curls relatively frizz free. My only issue was that the oil aspect of this product sat very heavily on my scalp and was a bit too greasy for my roots.
The hydrating mask had a much stronger scent than I anticipated for an avocado scented product and I didn't particularly enjoy the fragrance, it lingered post wash. This product performed the best for my curls when it was combined with the oil treatment and left my hair fully hydrated with tons of moisture. The combination of both ingredients worked well together and had a balanced fragrance that I enjoyed.
Overall Review
Overall this is a brand I enjoyed reviewing and loved the guilt-free aspect of knowing I was using clean ingredients that benefited the environment. I believe in time as the products grow beyond hair treatments they will provide refreshing and innovative way for naturalistas to go vegan in this sector of the market.