Let's just come out and say it, gel is our curlfriend. Long gone are the days of crunch and flake that had us scratching our heads and hating our curls. Gels today are the perfect antidote to frizz and can help define and hold your curls, especially in the warmer season like summer. 
Gels are made for all types of hairstyles whether you're wanting a protective style, wash and go, twist out, or braids. While the consistency of gel can vary depending on variants in the ingredients, gels are a great styling product to help with humidity, eliminate frizz, and lock in the moisture our curls so desperately need when we battle the sun. There are tons of brands that now include hydrating ingredients like olive oil, shea butter, flaxseed, and other hydrating nutrients to help maintain definition and sculpt your curls. 
With so many options to choose from you may be wondering which are the best of the best gels? We talked to stylists who shared with us their top styling gels, what curl types work best with them, and how to apply them to get the best results out of the product.
2 / 10
Stylist: Nubia Rezo, creator of the Rezo Cut and founder of Rezo Salon
"This gel is super hydrating for curls, while also being flexible, weightless and adding so much shine."
Best for 
"The Rëzo Gel is for ALL hair types. I love to use it to style twists, braids and run finger coils."
How to apply it 
"Less is more! 80% water 20% product. On looser textures follow the 50/50 technique, this method is incredible, diffuse half way, reapply small amounts of gel again then continue diffusing until hair is 100% completely dry. For tighter textures, apply with prayer hand technique in the same direction vertically down elongating the hair, dry under a hooded dryer."
3 / 10
Stylist: Ona Diaz-Santin CEO of 5SalonSpa in Fort Lee NJ
"It has a light glazy viscosity to it and it's an organic option."
Best for
"It works on 2abc – 3abc fine, medium or coarse hair types."
How to apply it 
"Application and saturation is key, so making sure you take small sections and by applying the gel roots to ends will give optimal results!"
4 / 10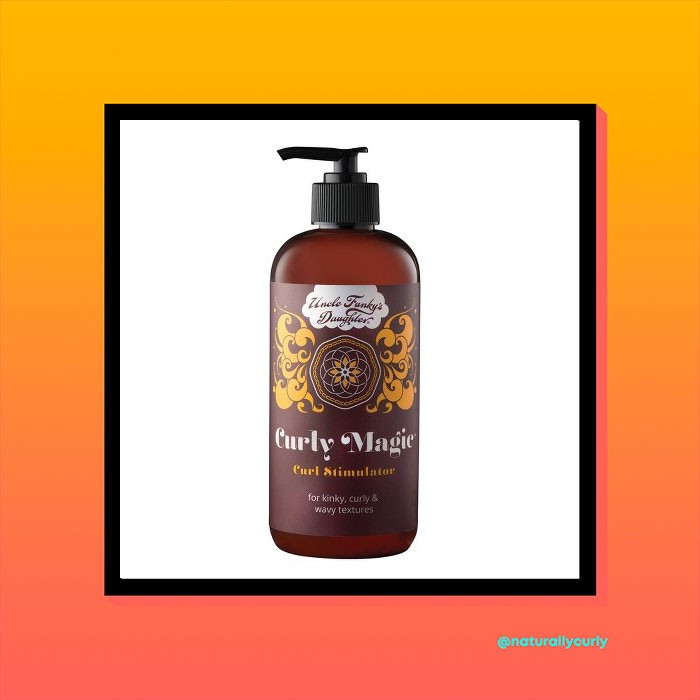 Stylist: Yessenia Reyes, Curly Cut Expert also known as The Textureologist 
"I love this gel because it offers great hold (without the crunch) and definition."
Best for
"This gel works well for all curl types, wavy, curly, coily and kinky hair."
How to apply it 
"To lock in curl definition, always apply the styling product on soaking wet hair. Work in sections to rake and smooth the product into the hair. This will ensure the product is distributed throughout the hair evenly. To set the curl, diffuse, air dry, or sit under a dryer. When dry, fluff and you're ready to go!"
5 / 10
Stylist: Joe Ortiz, Designer of The Precision Curl Cut also known as El Rey de Los Rizos
"This gel has replaced most of the gel we used because it's moisturizing, shine and medium hold it has in hair. This gel does not require in most situations a primer, like a leave in or spray prior to application."
Best for
"The gel is used for very curly to coarse hair."
How to apply it 
"Amount of product for application I recommend is a pea size per section and of course most of the time is based on your density, porosity and texture."
6 / 10
Stylist: Genese Cervantes, Curly Hair Stylist of My Curl Connection
"This works well at keeping your curls defined and looking moisturized!"
Best for
"I normally use either of these gels on a majority of my tighter curled clientele or even on myself!"
How to apply it 
"Apply in small sections using the Felicia Leatherwood detangling brush, as this helps you distribute the product evenly on your strands. Always dry your curls either under a hooded dryer or diffuser, so you can "set" your curls in place. If you have a looser curl pattern, you can opt for the Ouidad Advanced Climate Control® Heat and Humidity Gel. Although light weight in texture, it will still define your curls and can give volume when you diffuse!"
7 / 10
Stylist: Andrea Mororo, Mixed Indigenous Curl Specialist
"I love this gel because of its water-based ingredients like aloe vera is an ingredient that holds and hugs onto moisture. It also doesn't dry out the hair which gives the definition we strive to achieve with our curls."
Best for
"This gel works amazing for all tighter curl textures that wish to wear their hair out."
How to apply it 
"The best way to use this gel is by applying it to wet hair that is 'juicy' not 'dripping'. I like to add water before adding more gel and using your fingers and/or a detangling tool to help evenly distribute throughout the hair in sections. Overall, there should be greater water to product ratio for a slippery texture and allowing hair to dry by setting it with a diffuser or letting air dry. To achieve greater volume, fluff once hair is entirely dried."
8 / 10
Stylist: Nicole Gomez, Owner of Curls Amore studio
"As a fellow curly girl / stylist living in Florida we don't do well with humidity. This gel keeps my hair well kept during this time of year. It adds tons of shine and a great hold. One thing I really love is that it doesn't leave my hair hard or crunchy like some other gels tend to do."
Best for
"This gel works well with most curl types. I've used it on clients from wavy to coily hair. It's good to use alone or a leave-in conditioner."
How to apply it 
"When applying I always make sure to section off my hair and start with a nickel size amount, add more if needed." 
9 / 10
Stylist: Ruth Mullen, Owner of Ruth Elena Salon
"I love that it gives enough hold for definition but keeps the hair feeling soft and bouncy."
Best for
"I use this gel to create hold on all textures."
How to apply it 
"Depending on the desired finished look is. I'll adjust the amount of product I use and how I apply it. Make sure you use lots of water with the gel! For more definition apply more gel and smaller sectioning, if you want more volume use less gel and bigger sections."
10 / 10
Stylist: Taisha Ortiz, Owner of Magic Curls Hair Studio
"I absolutely love this gel because it is a 2 in one styling product that gives hydration, moisture and hold."
Best for
"This can be great for clients with all hair types , the only difference is the amount of the product being used depending on the density and curls type. This mousse gel can be used for any style especially for sleek looks, braids and to enhance your curls with added volume."
How to apply it 
"I typically like to take the product and rub it in first on my palms before applying it to the hair. Otherwise there will be areas that take too much of the product and affect the style entirely."